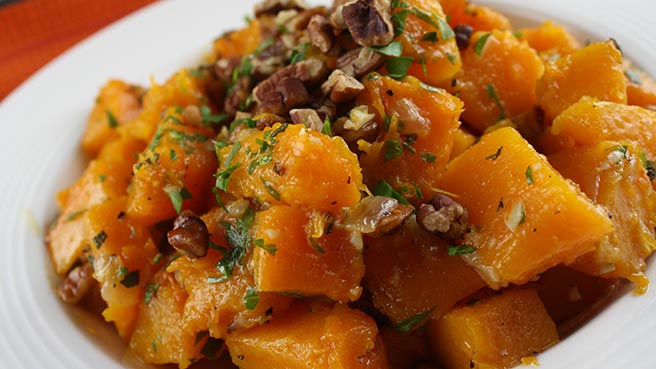 Butternut Squash with Onions and Pecans Recipes
PREP 20 mins
COOK 40 mins
READY IN 1 hr
Ingredients
Original recipe makes 8 servings
1 cup chopped pecans
3 tablespoons butter
1 large onion, finely chopped
2 1/4 pounds butternut squash - peeled, seeded, and cubed
salt and pepper to taste
3 tablespoons chopped fresh parsley
Directions
Place pecans on an ungreased baking sheet. Toast at 350 degrees F (175 degrees C) for 5 to 8 minutes.
Melt butter in a large, heavy skillet over low heat; add onion, and saute until very tender, about 15 minutes. Stir in squash, and cover. Continue cooking, stirring occasionally, until squash is tender but still holds its shape, about 15 minutes. Season with salt and pepper.
Stir in half the pecans and half the parsley. Transfer mixture to a serving bowl. Sprinkle with remaining pecans and parsley to serve.