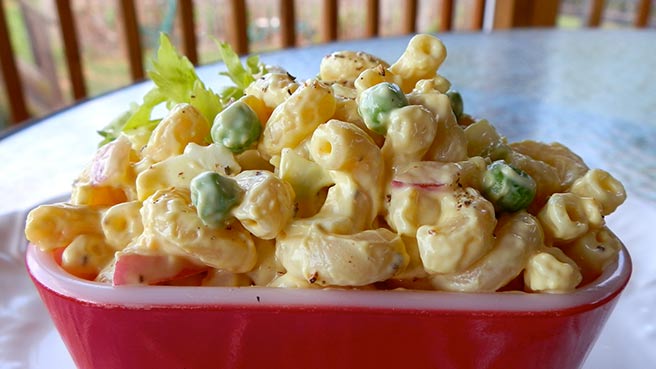 Jim's Macaroni Salad Recipes
PREP 30 mins
COOK 10 mins
READY IN 40 mins
Ingredients
Original recipe makes 8 - 10 servings
1 (16 ounce) package macaroni
1 tablespoon cider vinegar
1 cup mayonnaise
1/2 cup chopped white onion
1 (4 ounce) jar sliced pimento peppers, drained
1/2 cup chopped dill pickles
1/2 cup chopped green bell pepper
6 slices American processed cheese, cut into 1/2-inch piece
1 (6 ounce) can pitted ripe olives, drained
4 hard-cooked eggs, chopped
salt and ground black pepper to taste
Directions
Cook the macaroni in a large pot of lightly salted boiling water until tender, 6-8 minutes depending on size. Drain, and set aside.
Stir the vinegar and mayonnaise together in a bowl until thoroughly blended.
Combine the cooked noodles, onions, pimentos, pickles, bell peppers, cheese, olives, and eggs in a large bowl. Add the mayonnaise mixture, and toss gently to coat ingredients. Season with salt and pepper to taste. Refrigerate until ready to serve.