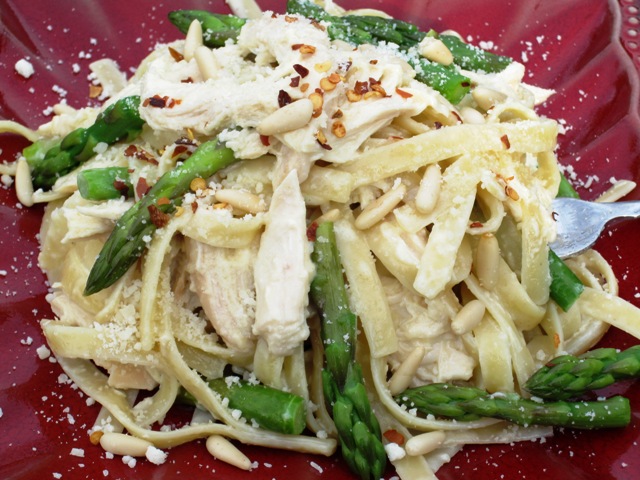 Chicken and Asparagus Fettuccine Recipes
PREP 15 mins
COOK 25 mins
READY IN 40 mins
Ingredients
Original recipe makes 6 servings
12 ounces dry fettuccini pasta
2 cups 1 inch pieces fresh asparagus
1/2 cup butter
2 cups half-and-half cream
1/4 teaspoon garlic powder
1/4 teaspoon ground black pepper
1 pinch cayenne pepper
3/4 cup grated Parmesan cheese
1/2 pound cooked chicken breasts - cut into bite size pieces
Directions
Bring a large pot of lightly salted water to a boil. Add pasta, and cook for 8 to 10 minutes, or until al dente. Add the asparagus during the last 3 to 5 minutes of cooking. Drain, and transfer to a large bowl.
In a large saucepan over medium heat, combine butter and half-and-half. Cook until thick and bubbly. Season with garlic powder, black pepper, and cayenne pepper. Stir in Parmesan cheese and chicken, and heat through.
Pour sauce over pasta and asparagus, and toss to coat.