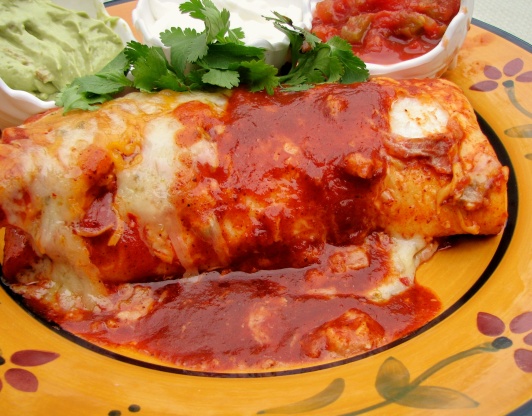 Chicken and Red Bean Enchiladas Recipes
Ingredients
Original recipe makes 6 servings
2 cups shredded rotisserie chicken
1 (15.5 ounce) can small red or pinto beans, drained
2 cups grated pepper Jack cheese
1 medium-large onion
2 tablespoons olive oil
1 (15 ounce) can tomato sauce
1 (14.5 ounce) can chicken broth
3 tablespoons sour cream
12 corn tortillas (about 5 1/2 inches in diameter)
Optional garnish:
chopped fresh cilantro
hot red pepper sauce
Directions
Adjust oven rack to middle position; heat oven to 375 degrees. In a medium bowl, mix chicken, beans and 1 cup cheese; set aside. Thinly slice 1/2 cup onion; set aside. Finely chop remaining onion.
Heat oil in a 12-inch skillet over medium-high heat. Add chopped onions and saute until golden, about 5 minutes. Add tomato sauce; simmer until very thick, about 12 minutes. (Stir frequently; reduce heat if sputtering dramatically.) Add broth; bring to simmer. Remove from heat; whisk in sour cream. Stir 1/2 cup sauce into chicken mixture.
Spread 1/2 cup sauce in a 13-by-9-inch ovenproof glass dish. Microwave tortillas on high power in a microwave-safe plastic bag until warm, about 1 minute. Fill each tortilla with a heaping 1/4 cup chicken mixture; roll and place in baking dish. Top with remaining sauce and cheese.
Bake until bubbly, about 20 minutes. Top with sliced onions and the optional cilantro. Serve hot. Pass pepper sauce separately.