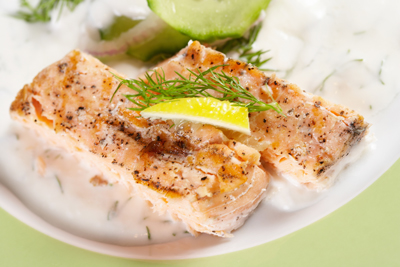 Dijon Garlic Salmon Recipes
PREP 15 mins
COOK 20 mins
READY IN 35 mins
Ingredients
Original recipe makes 4 servings
4 (6 ounce) salmon fillets
1/3 cup Dijon mustard
4 large cloves garlic, thinly sliced
1 red onion, thinly sliced
1 teaspoon dried tarragon
salt and pepper to taste
Directions
Preheat oven to 400 degrees F (200 degrees C). Spray a 9x13 inch pan with cooking spray.
Arrange the salmon skin side down in the prepared pan, and lightly coat with the Dijon mustard. Place the garlic and onion slices on the salmon fillets. Season with tarragon, salt, and pepper.
Bake 20 minutes in the preheated oven, or until salmon is easily flaked with a fork.