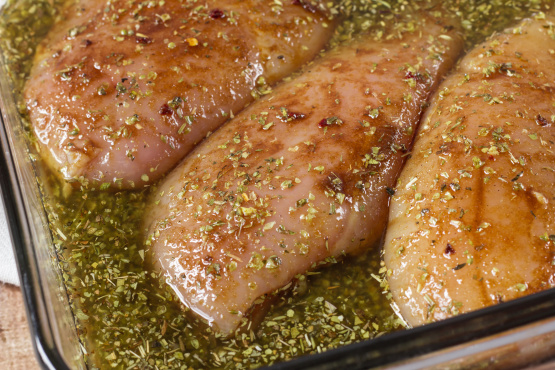 Italian Chicken Marinade Recipes
PREP 15 mins
COOK 15 mins
READY IN 4 hrs 30 mins
Ingredients
Original recipe makes 4 servings
1 (16 ounce) bottle Italian-style salad dressing
1 teaspoon garlic powder
1 teaspoon salt
4 skinless, boneless chicken breast halves
Directions
In a shallow baking dish, mix the salad dressing, garlic powder, and salt. Place the chicken in the bowl, and turn to coat. Marinate in the refrigerator at least 4 hours. (For best results, marinate overnight.)
Preheat the grill for high heat.
Lightly oil grate. Discard marinade, and grill chicken 8 minutes on each side, or until juices run clear.