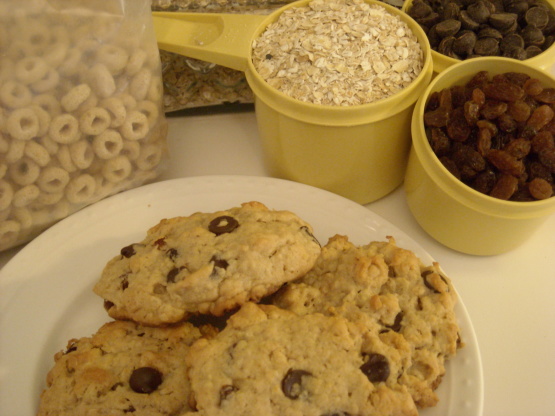 Jumbo Breakfast Cookies Recipes
PREP 10 mins
COOK 12 mins
READY IN 22 mins
Ingredients
Original recipe makes 24 big cookies
2 cups white sugar
1 cup peanut butter
1 cup butter or margarine
1/2 cup water
2 tablespoons vanilla extract
2 eggs
2 1/4 cups all-purpose flour
1 teaspoon baking soda
1/2 teaspoon salt
1 1/2 cups rolled oats
1 1/2 cups raisins
6 cups toasted oat cereal rings (such as Cheerios®)
Directions
Preheat the oven to 375 degrees F (190 degrees C).
In a very large bowl, mix together the sugar, peanut butter, butter, water, vanilla and eggs until smooth. Combine the flour, baking soda and salt; stir into the batter. Mix in the oats and raisins, then carefully stir in the cereal. Drop 1/2 cupfuls of dough onto ungreased cookie sheets, spacing cookies about 4 inches apart. Flatten cookies to 1 inch thick.
Bake for 12 minutes in the preheated oven, until cookies are lightly browned at the edges. Let stand on the cookie sheets for 5 minutes before removing to wire racks to cool completely. Store at room temperature. I like to put each cookie into a sandwich bag which makes them easy to grab on the way out the door.