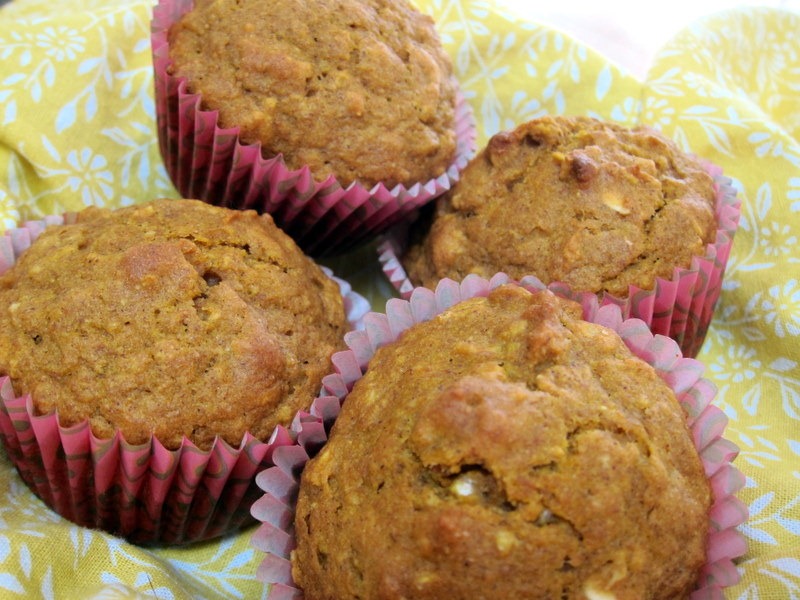 October Oatmeal Pumpkin Muffins Recipes
PREP 15 mins
COOK 20 mins
READY IN 40 mins
Ingredients
Original recipe makes 6 large muffins
no-stick cooking spray
1/2 cup all-purpose flour
1/2 cup whole wheat flour
1/2 cup white sugar
1 teaspoon salt
1 teaspoon pumpkin pie spice
3/4 teaspoon baking powder
1/2 teaspoon baking soda
1/2 teaspoon ground cinnamon
1/2 teaspoon ground nutmeg
1 1/4 cups pumpkin puree
1/2 cup milk
2 eggs, beaten
1/4 cup maple syrup
3/4 cup quick-cooking rolled oats
Directions
Preheat oven to 375 degrees F (190 degrees C). Spray 6 muffin cups with cooking spray.
Whisk all-purpose flour, whole wheat flour, sugar, salt, pumpkin pie spice, baking powder, baking soda, cinnamon, and nutmeg together in a large bowl until thoroughly combined. Stir pumpkin puree, milk, eggs, and maple syrup into the dry ingredients until batter is smooth; fold oats into batter. Scoop batter into prepared muffin cups, filling them to the top.
Bake in the preheated oven until a toothpick inserted into the center of a muffin comes out clean, 20 to 30 minutes; set aside to cool 5 to 10 minutes before serving.