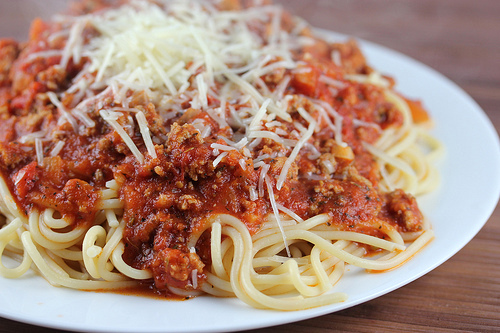 Pasta Sauce with Italian Sausage Recipes
PREP 30 mins
COOK 1 hr
READY IN 1 hr 30 mins
Ingredients
Original recipe makes 6 servings
1 pound Italian sausage links
1/2 pound lean ground beef
1 tablespoon olive oil
1 onion, chopped
1 clove garlic, chopped
1 (16 ounce) can canned tomatoes
1 (15 ounce) can canned tomato sauce
1 teaspoon salt
1/4 teaspoon ground black pepper
1 teaspoon dried basil
1 teaspoon dried oregano
1 bay leaf
Directions
Removed casing from sausage links and cut into 1/2 inch slices. In a large skillet, brown sausage over medium heat for about 10 minutes; remove and set aside.
In a large skillet, heat ground beef, olive oil, garlic and onion over medium heat until meat is nicely browned; drain.
Pour in tomatoes and tomato sauce; mix in salt, ground black pepper, basil, oregano, bay leaf and cooked sausage. Simmer uncovered for 1 hour, stirring occasionally.
Bring a large pot of lightly salted water to a boil. Add pasta and cook for 8 to 10 minutes or until al dente; drain.
Mix cooked sauce with hot pasta and remove bay leaf from sauce before serving.