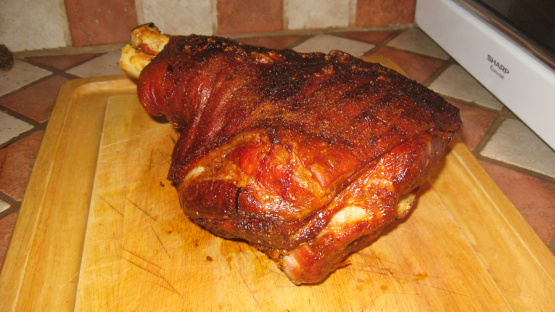 Puerto Rican Pork Roast Recipes
PREP 30 mins
COOK 1 hr 30 mins
READY IN 2 hrs
Ingredients
Original recipe makes 20 servings
8 cloves garlic, peeled
1/4 cup salt
1/4 cup black pepper
2 teaspoons chopped fresh oregano
3 tablespoons olive oil
1 (10 pound) pork picnic roast
4 yucca (cassava) roots, peeled and sliced
Directions
Preheat the oven to 425 degrees F (220 degrees C).
Place the garlic, salt, pepper, oregano, and olive oil into the container of a food processor or blender. Process until smooth. Use a small knife to make several incisions in the fresh ham. Insert the garlic paste into each one using a small spoon. Place the ham in a roaster, and cover.
Bake for 1 1/2 hours in the preheated oven, then check every 15 minutes or so, until the internal temperature reaches 175 degrees F ( 80 degrees C) when taken with a meat thermometer.
While the meat is roasting, place the yucca in a large pot of boiling water. Cook until fork tender, and drain. Serve with pork roast.