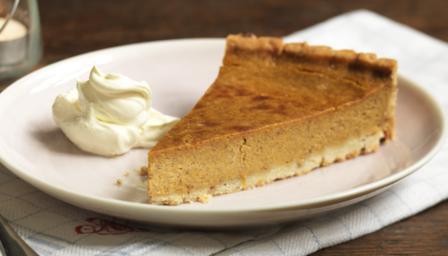 Pumpkin Pie I Recipes
PREP 10 mins
COOK 40 mins
READY IN 50 mins
Ingredients
Original recipe makes 1 -9 inch pie
1 egg
1 tablespoon all-purpose flour
3/4 cup white sugar
1/2 teaspoon salt
1 1/2 cups pumpkin puree
1 1/2 cups evaporated milk
1/2 teaspoon ground cinnamon
1/2 teaspoon ground ginger
1/4 teaspoon ground nutmeg
2 tablespoons light corn syrup
1 (9 inch) unbaked pie crust
Directions
Preheat oven to 450 degrees F (230 degrees C).
Add the sugar gradually to the pumpkin puree. Beat well an stir in the flour, salt and spices. Stir in the corn syrup and beat well. Stir in the slightly beaten egg, then slowly add the evaporated milk, mixing until well blended. Pour the batter into the unbaked pie shell.
Bake at 450 degrees F (230 degrees C) for 10 minutes then reduce the oven temperature to 325 degrees F (165 degrees F) and continue baking pie for an additional 30 minutes or until a knife inserted into the mixture comes out clean.