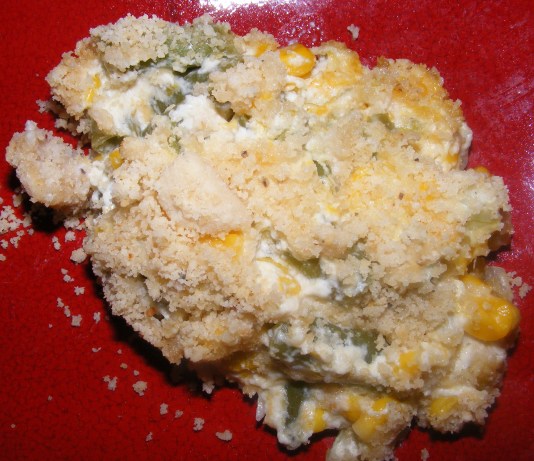 Shoepeg Corn Casserole Recipes
PREP 10 mins
COOK 45 mins
READY IN 55 mins
Ingredients
Original recipe makes 8 to 10 servings
1/2 cup chopped onion
1/2 cup chopped celery
1/4 cup chopped green bell pepper
1/2 cup shredded mild Cheddar cheese
1 (11 ounce) can white corn, drained
1 (14.5 ounce) can French cut green beans, drained
1 (10.75 ounce) can condensed cream of celery soup
1 (8 ounce) container sour cream
1/4 (16 ounce) package buttery round crackers, crushed
1/2 cup butter, melted
Directions
Preheat oven to 350 degrees F (175 degrees C).
In a large bowl, combine onion, celery, green pepper, cheese, corn, green beans, soup and sour cream. Spoon into a 2-quart casserole dish.
Combine crushed crackers with melted butter and sprinkle on top of vegetables.
Bake in preheated oven for 45 minutes.