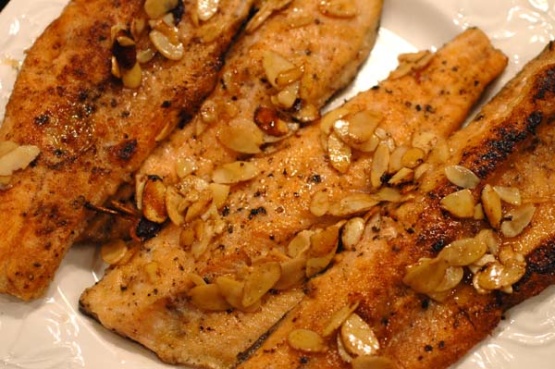 Trout Amandine Recipes
PREP 15 mins
COOK 20 mins
READY IN 35 mins
Ingredients
Original recipe makes 2 servings
2 whole (10 ounce) trout, pan-dressed
salt and pepper to taste
1/4 cup all-purpose flour
4 tablespoons butter
1/2 cup blanched slivered almonds
2 tablespoons lemon juice
1 tablespoon chopped fresh parsley, for garnish
8 slices lemon, for garnish
Directions
Rinse and pat dry trout. Season inside and out with salt and pepper to taste. Dredge trout in flour.
Heat 2 tablespoons butter in large skillet over high heat until melted. Add trout and brown both sides. Lower heat to medium and cook for about 5 minutes on each side or until cooked through. Remove trout to a serving plate and keep warm.
Wipe out pan and add 2 tablespoons butter. Cook butter over medium heat until it just begins to brown. Add the almonds and brown.
Pour sauce and almonds over fish and sprinkle with lemon juice and parsley. Garnish with fresh lemon slices.