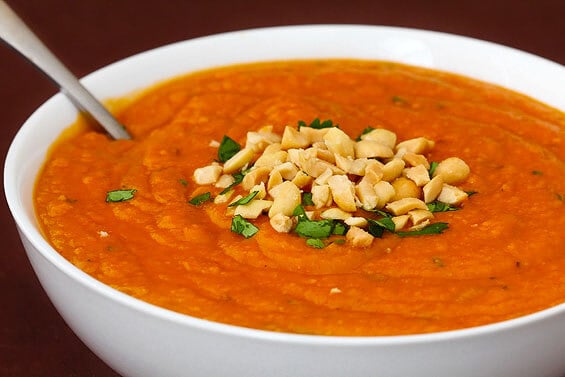 West African Peanut Soup Recipes
PREP 20 mins
COOK 1 hr
READY IN 1 hr 20 mins
Ingredients
Original recipe makes 10 servings
2 tablespoons olive oil
2 medium onions, very finely diced
2 large bell peppers, (any color) finely chopped
6 large cloves garlic, minced
1 (28 ounce) can chopped tomatoes with juice
8 cups vegetable broth
1/4 teaspoon pepper
1/4 teaspoon red pepper flakes
1/2 cup uncooked rice
1 (18 ounce) jar creamy peanut butter
chopped roasted peanuts (optional)
Directions
Heat olive oil in a large stock pot over medium-high heat. Cook onion, bell pepper, and garlic until lightly browned, about 5 minutes. Stir in tomatoes with their juice, vegetable broth, pepper, and red pepper flakes. Simmer, uncovered, for 15 minutes.
Add rice to soup and stir. Reduce heat, cover, and simmer 25 minutes, or until rice is tender.
When rice is cooked, whisk in peanut butter and return to a simmer, and serve. Garnish with chopped roasted peanuts, if desired.