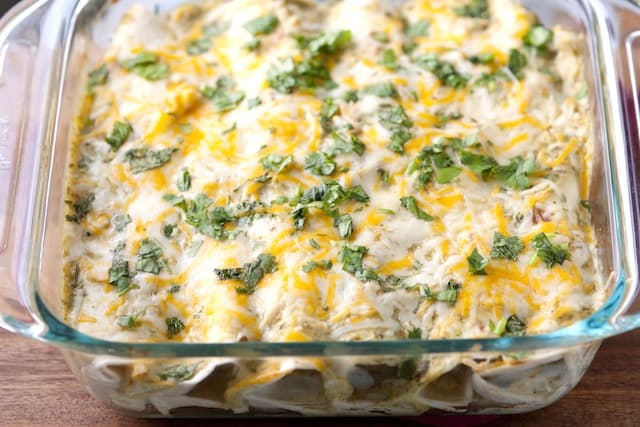 Jalapeno Cream Cheese Chicken Enchiladas Recipes
PREP 25 mins
COOK 1 hr 15 mins
READY IN 1 hr 40 mins
Ingredients
Original recipe makes 7 servings
3 skinless, boneless chicken breast halves
1 teaspoon cayenne pepper
1/2 teaspoon garlic powder
salt and ground black pepper to taste
2 tablespoons butter
1 large onion, minced
2 jalapeno peppers, seeded and minced (wear gloves)
1 (8 ounce) package cream cheese
1/2 teaspoon cayenne pepper
1 tablespoon garlic powder
1/2 teaspoon paprika
1/2 teaspoon chili powder
1/2 teaspoon ground cumin
1 (28 ounce) can green enchilada sauce
7 flour tortillas
8 ounces shredded Monterey Jack cheese, divided
Directions
Preheat oven to 350 degrees F (175 degrees C).
Season chicken breasts with 1 teaspoon of cayenne pepper, 1/2 teaspoon of garlic powder, salt, and black pepper. Place into a baking dish.
Bake in the preheated oven until the chicken is no longer pink inside and the juices run clear, about 45 minutes. Allow chicken to cool, and shred with 2 forks. Set chicken aside.
Heat butter in a large nonstick skillet over medium heat, and cook the onion and jalapenos until the onion is translucent, about 5 minutes; stir in the cream cheese in chunks, and allow cream cheese to melt and soften. Stir the cream cheese into the vegetables, and mix in 1/2 teaspoon of cayenne pepper, 1 tablespoon of garlic powder, the paprika, chili powder, and cumin. Mix in the cooked chicken meat; remove from heat.
Pour half the green enchilada sauce into the bottom of a 9x13-inch baking dish. Lay tortillas out onto a work surface, and place chicken mixture in a line down the center of each tortilla; sprinkle with about 1 tablespoon of Monterey Jack cheese per tortilla. Roll up the tortillas, and place into the sauce in the dish, seam sides down; pour the remaining sauce over the enchiladas. Sprinkle remaining 4 ounces of Monterey Jack cheese over the top.
Bake in the preheated oven until the filling is hot and bubbling and the cheese has melted, 30 to 35 minutes.